This week is about a theme of book covers of your choice. I can't wait to do this one because lots of people can have so much fun and be creative with this topic.This meme has been created by The Broke and The Bookish so do check out their blog. If you want to do the list yourself, make sure to credit them.
So the book covers I am going to focus on are characters wearing robes. Everytime I see a cover that has a character wearing some sort of robe I'm immediately drawn to it. They always give a sense of mystery that I am attracted to. So based on that, these are the books that caught my attention.
1. An Edition of Harry Potter by J. K. Rowling

This basically relates to any cover of Harry Potter but I particularly like to focus on these covers. Look how beautiful they are! I wish I can own them just for covers but that does mean money, and the characters don't just wear robes, they also have a sense of movement based on the characters actions. You also have the colours, the shadows, the tone shows the part of the books that you can easily drawn to.
2. The Lotus War series by Jay Kristoff
I think she is wearing a robe, or she is wearing a yukata which I presume is a type of japanese robe, but again beautiful covers and her characterisation is on point.
3. The Alchemists of Loom by Elise Kova
This cover makes me want to know more. She is obviously on the roof with her beautiful outfit that does contrast with the background.
4. The Glass Magician by Charlie N. Holmberg
I love the art style for all the covers of this series but the second book particularly seems to be more secretive than the other covers because of a guy wearing a robe. The guy on the cover seems to close his robe like he is hiding something, yet at the same time likes to be in the spotlight based how easily you can see him on the white background. I am starting to become intrigued on this series.
5. Any book by Trudi Canavan
There is too many of her books that contains a character wearing robes so I am just going to put the first book of each series there. You can see they are different styles but the same content.
6. The Way of Shadows by Brent Weeks
7. Queen of Shadows by Sarah J. Maas
Throne of glass series is a bit tricky as it is hard to tell whether she is wearing a robe or a tunic, but I think Queen Of Shadows is the one that has Celeana wearing a robe.
8. Falling Kingdoms by Morgan Rhodes
9. Truthwitch by Susan Dennard
 
10. Geist by Philippa Ballentine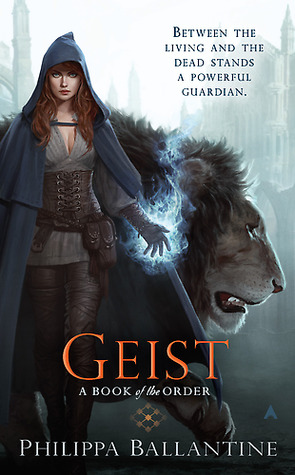 Looks like a combination of steampunk and magic based on the outfit she is wearing and the lion at the background gives a nice touch to it.
That is my list. If there are any books I missed do comment down below.
Happy Reading! 😀