This weekly meme is made by The Broke and the Bookish. Do check them out. 🙂 This week is books or things you are thankful for.
1. Harry Potter Series
Out of all the books, the Harry Potter series changed my world. I enjoyed and still enjoy all the adventures, the characters, the feels, the world. Just everything, including Fantastic Beasts and where to find them (shout out to the film. It's so good) and Harry Potter and the Cursed Child. This series is what got me into love for reading and I thank it everyday.
2. The Discworld Series
Terry Pratchett's is brilliant. Just over 40 books in the series with unique characters and aspects of Shakespeare, British humour and world problems. I will never get bored of these books.
3.Ready Player One by Ernest Cline
There are so few books about videogames, particularly about the 80's decade, and because I love videogames as much as books, it really gives me butterflies and made me truly happy to go through a virtual reality adventure in a book.
4. Alice Adventures in Wonderland by Lewis Carroll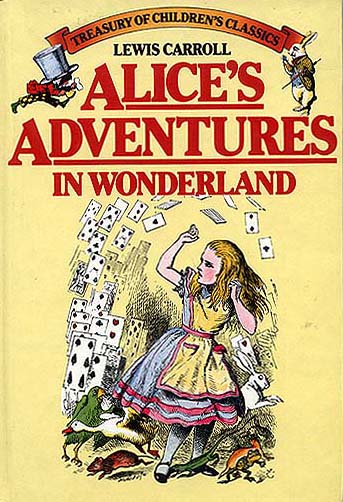 This story is a classic but it never gets old. A beautiful story about a girl called Alice who is bored of the real world, ended up following a rabbit and falls down a rabbit hole into a different world. Full of imagination and craziness along with memorable characters that both adults and children can enjoy. In fact, when this book was written when lots of children were suffering from measles, so this book was a great entertainment for them when they were seriously ill, and for that I am thankful.
5. Fables by Bill Willingham
Hooking story, full of suspense, lovely artwork and contains characters from old fairytale. It's nice to have fairytale characters that are not……. Disneyfied, even if it does contain sex, violence and gore.
6. Eve and Adam by Michael Grant and Katherine Applegate
For people who read my review for this book, you are probably confused confused why I put it on this list. Yes I hate it, but that's why I am thankful for it. Let me explain. I am easily pleased, that is my problem, and this book made me aware of what I want in a book by lacking certain parts that I think is essential in a book. As a book blogger, it made me a bit stricter while reading books and for that I am thankful.
These are not books but they are book related
7. Epic Reads
https://www.youtube.com/channel/UCSRwwQb-oMNAWWAnw0bh27w
Epic Reads gives so many good choices of books, especially on YA, along with author interviews, different quotes, book hauls and entertaining sketches called 'Book Nerd Problems'. Always make me laugh.
8. Booktuber~ Little Book Owl
https://www.youtube.com/channel/UCYOhq5F-joK8qQPekd-jU1g
Such a beautiful person from Australia with great knowledge of books. She has many books to recommend in any category, gives book reviews and also tips on Booktubing and Book blogging. She had inspired me to do a book blog and for that I am grateful to her.
9. Libraries
Ok. I am poor. I don't have money to buy all the books and if you go to my Goodreads profile, I have got over 400 books on my TBR pile, so to me libraries are a god send. I have three library cards, two of them I am currently using because at least on of them would have a book I want to read and canget it for free. Of course I have to return it but that doesn't bother me.
10. Podcast~ Adventures in YA
http://www.adventuresinya.com/episode-guide/
There are not much podcasts focusing on books, specifically on YA. I just found it recently and I am loving it, so if you like hearing adults talking about YA, do check them out.
Those are the 10 books and book related things I am thankful for.I do hope you enjoyed it. If you want to do the top ten list as well. Do it but make sure you link back to the makers of the weekly meme.