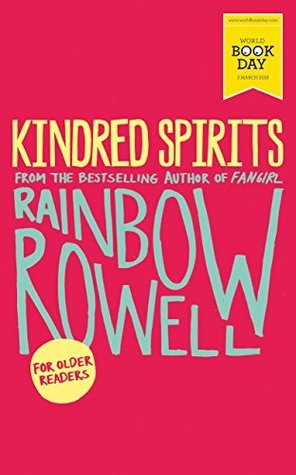 'Everybody likes everything these days. The whole world is a nerd.'
'Are you mad because other people like Star Wars? Are you mad because people like me like Star Wars?'
'Maybe.'
If you broke Elena's heart, Star Wars would spill out. So when she decides to queue outside her local cinema to see the new movie, she's expecting a celebration with crowds of people who love Han, Luke and Leia just as much as she does. What she's not expecting is to be last in a line of only three people; to have to pee into a collectible Star Wars soda cup behind a dumpster or to meet that unlikely someone who just might truly understand the way she feels. Kindred Spirits is an engaging short story by Rainbow Rowell, author of the bestselling Eleanor & Park, Fangirl and Carry On, and is part of a handful of selected short reads specially produced for World Book Day.
This cute, little book is a great read if you want to take a break from big books. It is only 64 pages that has a simple storyline with no complex twists. It is just a nice easy read that just makes you relaxed yet at the same time give your stomach little butterflies just by how cute it is.
The story focuses on Elena and Gale as they build an unlikely friendship while waiting in line to see 'Star Wars: The Force Awakens' a friendship that slowly builds just by talking about Star Wars. There is no sense of romance but the way they build their friendship is very sweet and light hearted which makes it very pleasing to read.
I give it 5/5 stars as it is really good paced, well written and such a simple story that lots of people can enjoy.